This adjustable Leather Designer Belt is also a Power Bank.
Low-Battery anxiety is real. This Belt is the solution!
Our phone-charging Belt is the perfect combination of Design, Technology and French savoir-faire.
The handmade leather click-belt for men with Power.
The click-belt allows micro-adjustments for perfect comfort.
When your phone is running out of battery, the phone-charging belt will give you a near full-charge when you need it.
A unique adjustable size up to 44" (110cm).
Works with most smartphones. Not suitable for OnePlus phones.
This area is used to describe your product's details. Tell customers about the look, feel, and style of your product. Add details on color, materials used, sizing, and where it was made.
See how it works
EXTEND YOUR BATTERY LIFE!
Our cool belt buckles contain a 2000mAh power bank to charge your phone.( For iPhone®, Android and most devices with USB port ).
One unique USB type-C to recharge both your Belty and phone.
USB-C adaptor included to use your own cable.
ONE SIZE FITS ALL
Our handmade leather belts are a near-universal 110cm (size 44").
If your size is smaller, you can just adjust the belt with a pair of good scissors for a perfect fit.
View more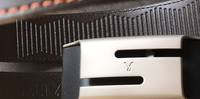 INNOVATIVE RATCHET SYSTEM with no plastic
The hand-made leather belts are without holes.
The ratchet system is hot-printed directly into the leather.
This innovative system does not leave any marks on the front of the belt and gives an incredible comfort.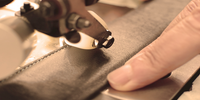 FRENCH SAVOIR-FAIRE
This Italian leather belt is hand-made by L'Aiglon in Paris. L'Aiglon has a savoir-faire in hand-crafting leather since 1889.
Our cool belt buckles are designed in Paris.
What our customers say
Easy to use. Very Useful. I'm happy with my purchase. Thank you !

Sébastien C
I finally received my Belty Power in a premium packaging and all is perfect. Belty is an eye-catching, original and elegant, that helps to strike up conversation and let you recharge you smartphone. It works for both and it's great.

Raphaël God
Very nice and smart product. Good quality and design. Nice packaging too.

Jacques-Benoit Le Bris
Received mine few days ago. I love the buckle design and the adjustment to the millimeter The power bank is of course a very nice feature and the weight here is totally forgotten

william schlegel
Just received today and immediately weared. This belt is an amazing object designed with fashion and digital oriented minds ! It is very easy to plug on trousers and to wear it with pride. My business colleagues and connected friends want the same. Your Belty will provoke envy and jealousy!

Patrick Robin
The Belty Power belt saved my business days several time by giving me the extra power needed to call my uber from a late restaurant, get my flight data when i need and even unlock my smart door when my iphone was already discharged. The belt is very classy and really convenient to fit my either my jeans or suit pants at perfection.

THIBERVILLE
All the techy details
2000mAh
Fast charge
For iPhone®, Android and most
devices with USB port
100% real split leather /Croute de cuir
Hand made
Made in France by L'Aiglon
Designed in Paris by Belty



Certificate for overall reliability and safety


One port fits all
One unique USB type-C to recharge both your Belty and phone
USB-C adaptor included to use your own cable